[:SR]
Ivan Miškeljin – Maraton se trči voljom i umom, a pobeđuje srcem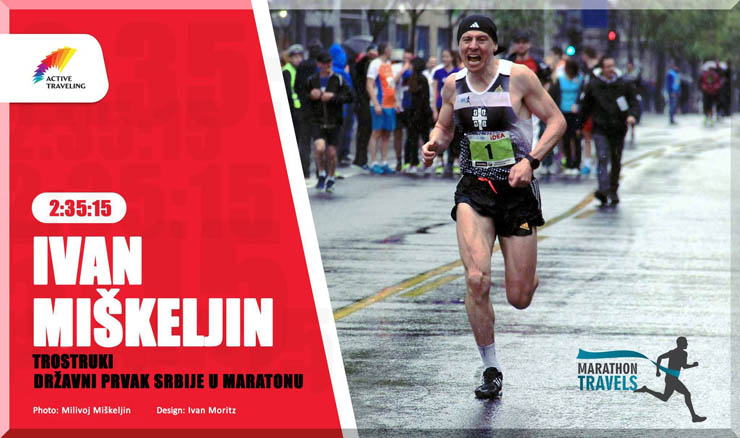 U razgovoru sa Ivanom, našim maratoncem, prijateljem i saradnikom, saznali smo kako je tekao njegov put od samog početka do titule Prvaka u maratonu, ali smo dobili i vredne savete što se tiče treninga, kako fizičkog tako i mentalnog.
1. Ivane, naravno sve čestitke na uspehu, po treći put si prvak Srbije u maratonu. Kakva je bila konkurencija i kakvi su utisci sa same trke?
– Trka je bila neizvesna od samog početka. Na samom početku izdvojila se grupa maratonaca i polumaratonaca. Vreme je bilo idealno za trku, oblačno sa kišom. Već četiri godine čekam da Beogradski maraton padne na ovakav dan. Izmedju 10. i 11. km izdvojilo se nas troje maratonaca. Ukić, Marković i ja. Trčali smo zajedno do 25. km, gde je Marković na 28. km, Ukić se odvaja napred i ostavlja me 150 metara iza. Pratim ga sledećih 12 km i smanjujem rastojanje na 80 metara. Dolazim blizu Brankovog mosta i vidim Ukića na 60 metara od sebe. Tada ubrzavam  i počinje jurnjava uz Brankov most i Brankovu. Stižem ga na ulazu u Ulicu kraljice Natalije. Keti Pohlod me ohrabruje i viče da ubrzam, a sa druge strane ulice vidim Kristijana Stošića kako se dere  na mene da pojurim.  Ova dernjava i vika ovih ljudi je urodila plodom. Dobio sam neku natprirodnu snagu, ubrzao, počeo da ispuštam životinjske krike  i izvlačim 120 posto snage iz sebe.  Penjem se uz Ulicu kneza Miloša, čujem orkestar koji svira "Marš na Drinu", što me je osokolilo i pobudio  ponos u meni, što me je još poguralo napred. Hitam prema cilju, približavam se Kenijcu koji je ulazi malo ispred mene u cilj i uzimam titulu prvaka Srbije.
2. Ovo je tvoj najbolji rezultat do sada. Koliko si maratonskih trka do sada istrčao?
– Ovaj, 28. Beogradski maraton je moj šesti maraton po redu. Takodje je drugi put kako trcim maraton u Beogradu. Trčao sam dva maratona u Novom sadu, jedan na Malti i jedan u Podgorici.
Na 28. Beogradskom maratonu sam istrčao svoj novi lični rezultat, u vremenu 2:35:15. Pre dve godine sam istrčao svoj prvi maraton i ostvario svoj lični rezultat u vremenu 2:38:55 i uzeo svoju prvu titulu prvaka Srbije. Skok je sa 2:38:55 na 2:35:15. Moj rezultat je usko vezan sa vremenskim uslovima. Mogu da budem izuzetno fizički spreman, ali ako je vrućina, neću dobro trcati. 18. aprila vreme se konačno poklopilo i bilo je prohladno i oblačno, i trka je "legla". Naučio sam lekciju, birati trke gde je prosečna teperatura ispod 17 stepeni i gde su veće mogućnosti oblačnog vremena.
3. Šta ti pruža motivaciju, i o čemu razmišljaš u toku trke?
– Tokom trke razmišljam najviše o tehnici i taktici trčanja. Veoma je bitno da u maratonskoj trci održite pravilno držanje tela i da vam kukovi budu u polozaju prema napred, kao i da grudni koš bude isturen napred,a ramena iza grudnog koša, nazad. U slučaju da dođete u položaj da su vam kukovi ostali pozadi, a rameni pojas "prestigne" grudni koš, dolazi do blokiranja disajnih puteva i manji procenat kiseonika unosite u organizam. Isto i ako su vam kukovi nazad – težište tela se usmerava prema nazad, umesto prema napred.
Taktika trčanja je veoma bitna. Upoznati protivnike, upoznati stazu. Iz ličnog iskustva, najbolje sam rezultate postizao kada sam trčao u grupi. Tada jedan drugom pomažete da istrčite trku, naizmenično se smenjujete u vođenju tokom trke i tako olakšavate i sebi i drugima. Najteže je kad trčite sami. Tokom trke dođe i do krize, tada morate sebe motivisati i naći pravu misao da prevaziđete krizu. Setite se nečega sto vam znači mnogo u životu, i držite se te misli dok ne prođe kriza.
4. Da se malo osvrnemo na prošlost i tvoje početke. Odakle ideja da počneš sa atletikom i kako je tekao taj put?
– Davne 1994. godine došao sam u "Partizan" da treniram boks. Izašao sam sa ostalima iz bokserskog kluba na atletsku stazu da trčimo.  Video sam da mi odlično ide trčanje i da sam većinu boksera ostavio iza sebe. Napustio sam boks i prešao na atletiku. Upoznajem Franju Mihaljića i počinjem kod njega da treniram. Kao i veliki broj dece nisam bio dovoljno zreo tako da sam neredovno dolazio i često pauzirao do pola godine. Tek 1997. počinjem ozbiljnije da treniram, ali tad se povređujem i pauziram nekih 13 godina. Tek 2010. godine uviđam da je povreda prošla i počinjem da se spremam, ali ovaj put bez trenera. I tu ova moja maratonska priča zapravo počinje. Iz trke u trku napredujem, u početku trčim polumaratone da bi se nakon dve godine odvažio i istrčao svoj prvi maraton u životu i uzeo svoju prvu titulu prvaka Srbije. Pre nje bih istakao meni dva uspeha u polumaratonu i to Skopski polumaraton 2011- treće mesto i Temišvarski polumaraton 2012 – prvo mesto. Zatim dolazi druga titula prvaka Srbije 2014. i treća 2015.godine.
5. Da li si imao trenera, ili uzora, nekoga od koga si "upijao" ono najbolje?
– Moj prvi uzor u atletici je bio moj trener i osvajač olimpijske medalje u maratonu Franja Mihaljic. On je bio moj prvi kontakt sa dugoprugaskim trčanjam i ulio mi je ljubav ka dugim stazama. Na svetskom nivou moj najveći uzor je Haile Gabre Selasije.
Učio sam i od trenera, ali sam najviše naučio od trkača sa kojima sam trenirao. Od svakog od njih sam uzeo ono što je po mojoj proceni bilo najbolje u njihovom treningu i ugradio u svoj trening. Te trkače ću da nabrojim: Anđelko Rističević, Kristijan Stošić, Katarina Pohlod, Danijela Barać, Nataša Čulafić, Alek Neševski, Nenad Milošević, Zoran Bursać i drugi.
Ova godina će mi ostati u sećanju po savetima atletičarke koju spremam Katarine Pohlod. S obzirom na to da mi se često kvarila tehnika i pogrbljivao sam se tokom trčanja, što je bilo evidentno na snimcima prethodnih trka, Keti me je pitala da li radim vežbe stabilizacije trupa (trbušnjaci, leđnjaci i druge), na šta sam rekao da radim, dva puta nedeljno. Rekla mi je da je to nedovoljno i da treba da radim 4-5 puta nedeljno. Poslušao sam je i popravio držanje tela, kao i rezultat u maratonu i polumaratonu. To je tipičan primer da se ne uči samo od trenera, nego se može mnogo naučiti i od atletičara koje treniramo.
6. Da bi došao to takvog uspeha, čovek mora da bude uporan i disciplinovan, ali i da ima podršku sa strane.  Koliko je to presudan faktor?
– Podrška je bitan faktor svakog trkača. Jedna reč dobačena iz publike bilo od trenera, rodbine ili gledalaca može da podigne trkača i da ga osokoli, ili ako je pogrešna može da postigne obrnut efekat. Porodice trkača treba da imaju razumevanja za njihovog člana i sate koje provodi na treningu. Maratonski trening može da traje od sat i po do tri i po sata i može da bude veoma naporan, zato razumite vašeg maratonca kada se vrati kući umoran i legne da spava umesto da se pozabavi kućnim poslovima.
Kada neko od vaših poznanika trči maraton, a zamoli vas da tu subotu ili nedelju izađete na ulicu i navijate za njega, ucinite to, jer ćete doprineti da taj maratonac ili maratonka istrče lični ili uspešno završe svoj prvi maraton.
7. Kako izgledaju tvoji treninzi? Na čemu je akcenat prilikom treninga za maraton
– Nedeljni mezociklus izgleda ovako: smenjuju se jači i lakši treninzi. Ako sam ponedeljkom radio jači trening, utorkom je lakši trening, i tako naizmenicno. Jedan dan nedeljno je odmor kada uopste ne trčim. U periodu kada radim dva treninga dnevno, jedan trening koji se radi ujutro je jači, a drugi koji se radi poslepodne je lagan i to je lagano rastrcavanje. Pored trkačkih treninga radim i vežbe snage, ali samo sa sopstvenom težinom. Vežbe jačanja nogu radim dva puta nedeljno, dok vežbe stabilizacije trupa (trbušnjaci i leđnjaci) radim 4-5 puta nedeljno. Skrenuo bih pažnju trkačima na vežbe stabilizacije trupa, jer od njih zavisi posturalni stav odnosno držanje trupa pravo tokom trke. Trkači se cesto pogrbljuju u ramenom pojasu kada trče, kukovi im dolaze u sklonjen polozaj prema nazad, a samim tim dolazi do smanjenja unosa kiseonika u organizam i trkač trči neefikasno i gubi na tehnici. VEŽBE STABILIZACIJE TRUPA TREBA RADITI ŠTO ČEŠĆE.
8. Šta imaš sledeće u planu od takmičenja? Da li planiraš da trčiš i neke maratone u inostranstvu?
– Planiram da u septembru ove godine trčim polumaraton, a u oktobru maraton. Želeo bih da polumaraton trcim u Kopenhagenu, a maraton u Ajnhovenu. Planiram da polumaraton trčim između 1:12 i 1:13, a maraton izmedju 2:29 – 2:32.  Od domaćih trka planiram da učestvujem na Noćnom polumaratonu u Novom Sadu, Adidas Boost trkama u maju i septembru, kao i na Adidas Open Run trci u oktobru. U maju sledeće godine ako budem spreman trčao bih maraton u Roterdamu.
9. Šta je za tebe maraton i kako bi ga opisao? I šta je presudno za uspeh u maratonu?
– Maraton se mora doživeti na sopstvenoj koži da bi se razumeo. Test izdržljivosti, karaktera, volje. Maraton dugo traje i zato je najnepredvidljiviji, ogroman broj procesa u organizmu se dešava i može se desiti da i najpripremljenijem favoritu trka ne "legne", a da neki trkač od kog se nije očekivalo ostvari dobar plasman. Pored fizičke spremnosti vremenski uslovi kao konfiguracija terena i nadmorska visina znatno utiču na maraton. Idealna slika i uslovi jednog maratona bi bili ovi: temperatura izmedju 12 i 16 stepeni, oblačno vreme bez vetra i bez sunca, nadmorska visina na nivou mora. Takve idealne uslove imaju maratoni koji se trče u severnoj Evropi i istakao bih tri maratona koji su za mene takvi: Roterdamski maraton, Kopenhagenski maraton i Ajndhovenski maraton.
Maraton je za mene 70 odsto stvar uma i vere, a 30 odsto stvar fizičkog treninga. U  maratonu se pobeđuje sa tri "oružja": umom, srcem i voljom. Dobar trkač mora da uskladi ova tri "sveta trojstva". Mora da zna kada da trči srcem, a kada glavom, kada da uključi jedno, a isključi drugo. Imamo trkače koji su suviše srčani pa prvi deo trke istrče odlično, a ne uspeju drugi jer sagore i istroše se u prvom delu. Imamo trkače koji trce umom, inteligentne koji kalkulisu, pa pametno istrce skoro celu trku, ali izgube od trkača koji trče srčanije u finišu trke. Kada znate koji je vaš roblem u trci, bilo da je u srcu ili u glavi, morate imati volju da to promenite. Učitez greška. Lično iz pobeda ništa nisam naučio, najviše sam naučio kroz poraze. Što vise analizirate greške načinjene u maratonu, to u sledećoj trci manje rizikujete.
[youtube]https://www.youtube.com/watch?v=F-4YY3aA550[/youtube]
[:en]
Ivan Miškeljin – Maraton se trči voljom i umom, a pobeđuje srcem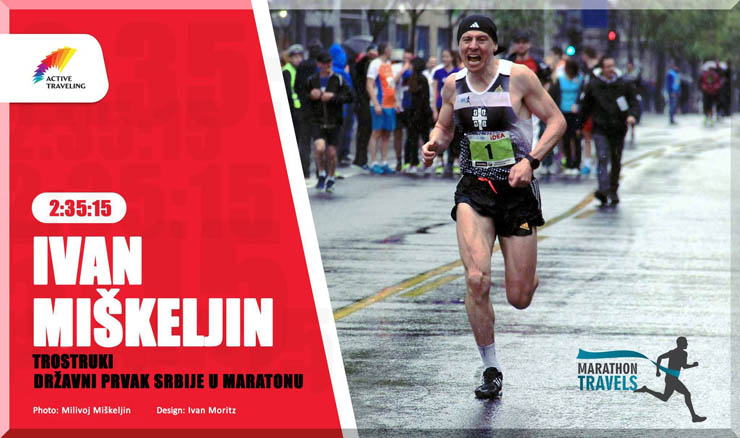 1. Ivan, congratulations on your success, of course, as this is the third time that you are the champion of Serbia in the marathon. What was the competition like and what were your impressions of the race?
– The race was uncertain from the start. In the beginning, a group of marathon and half-marathon runners became distinct. The weather was ideal for the race, cloudy with rain. I waited four years for the Belgrade Marathon to fall on a day like this. Between the 10th and the 11th km, the three of us marathon runners became separate from the others. Ukic, Markovic, and myself. We ran together up to the 25th km, then Markovic was at the 28th km, Ukic separated himself by moving forward, leaving me 150 meters behind. I followed him next 12 km and reduced the distance to 80 meters. I came near Branko's Bridge and saw Ukic at 60 meters away. The speed was up on Branko's Bridge and Brankova Street. I caught up with him at the entrance to the Kraljice Natalije Street. Kathy Pohlod encouraged me and shouted for me to speed up, and on the other side of the street I saw Kristijan Stosic yelling at me to run faster. The yelling and the outcries of these people have borne fruit. I got some supernatural powers, so to speak, sped up, let out animal cries of strength and gave it 120 percent of myself. Climbed the Kneza Milosa Street, and heard the band playing "March on the Drina" (a World War One patriotic march), which emboldened me and aroused pride in me, as I pushed forward. I rushed towards the finish line, approaching a Kenyan who entered the finish a little in front of me, and then I took the title of champion of Serbia.


2. This is your best result so far. How many marathon races have you run so far?
– The 28th Belgrade Marathon was my sixth marathon in a row. It was also the second time I ran the marathon in Belgrade. I ran two marathons in Novi Sad, one in Malta, and one in Podgorica.
On the 28th Belgrade Marathon, I ran my new personal result, at a time 2:35:15. Two years ago, I ran my first marathon and achieved my personal result at a time 2:38:55 and took the first title of champion of Serbia. So, I went from 2:38:55 to 2:35:15. My result is usually closely related to weather conditions. I can be extremely physically ready, but if it's hot, I'm not good at running. On April 18, the weather finally coincided, and it was chilly and cloudy, and the race was just perfect. I learned my lesson. I choose races where the average temperatures are below 17 degrees Celsius and where there are greater opportunities for cloudy weather.


3. What gives you motivation and what do you think about during the race?
– During the race I think mostly about running technique and tactics. It is very important that in the marathon one keeps proper posture and that ones hips are in a position to move forward, and that the chest is protruding forward, shoulders back, behind the chest. In the event that you are in a position to rest your hips back and let the shoulder area "overtake" the chest, there comes a blocking of the airways, and a lower percentage of oxygen is introduced into the body. Also if you have hips back, the focus of the body is directed to the back, rather than forward.
Running tactics is very important. Familiarize yourself with opponents, familiarize yourself with the path. From personal experience, I achieved the best results when I ran with a group. Then we helped one another run the race, alternately taking turns in leading during the race, making it easy for ourselves and others. The hardest thing is when you run alone. During the race there may be a crisis, and then you have to motivate yourself and find the right idea to overcome the crisis. Think of something that really means a lot to you in life, and hold on to that thought until the crisis passes.


4. Let's have a look back at the past and your origins in athletics. Where did the idea to start with athletics come from and how did that path then come about?
– Back in 1994, I came to "Partizan" to train boxing. I went out with the rest of the boxing club on the running track to run. I saw that I had great potential in running and left most of the boxers behind. I left boxing soon after and started athletics. I met Franja Mihaljic and started to train with him. Like many children, I was not mature enough, so I came irregularly and often paused even to half a year. It was not until 1997 that I started to train seriously, but then I suffered from an injury and paused for about 13 years. It was not until 2010 that I realized the injury was over, and started to get ready, but without a coach. And here's where my story really began in marathon. From one race to the next I progressed, initially running the half marathons, and after two years, having ventured out there and having run the first marathon in my life, and having taken my first title of Serbian champion. Before this, I would like to mention two successes in the half-marathons: Skopje 2011 – third place, and Timisoara 2012 – first place. Then came the second title of champion of Serbia in 2014, and the third in 2015.


5. Do you have a coach or role model, someone from whom you have "absorbed" something?
– My first role model in athletics was my coach and Olympic medalist in the marathon Franja Mihaljic. It was my first contact with the long distance running and he inspired me to love long distances. At world level, my biggest role model is Haile Gebrselassie.
I learned from coaches, but also from most of the runners I trained with. From each of them I took what in my estimation was the the best in their training and incorporated that into my workout. These runners are: Andjelko Risticevic, Kristijan Stosic, Katarina Pohlod, Danijela Barac, Natasa Culafic, Alek Nesevski, Nenad Milosevic, Zoran Bursac, and others.
I will remember this year by the advice that I got from an athlete, Katarina Pohlod. Due to the fact my technique was not often proper, by not having the correct posture during running, which was evident in the videos of previous races, Kathy asked me if I was doing core stabilization exercises (abs, back exercices, and others), to which I replied that I did them twice a week. She told me that it was not enough and that they should be done 4-5 times a week. I took the advice and improved my posture, as well as the results of the marathon and the half-marathon. This is a typical example that we can learn a lot from the trainers who are coaching us, but also from the athletes whom we are coaching.


6. To come to such a result, one has to be persistent and disciplined, but also to have the support on the side. How is this a crucial factor?
– Support is an essential factor of every runner. One word from the audience, be it from coaches, relatives, or spectators can lift the runners' spirits and encourage them, or likewise, a wrong word can achieve the reverse effect. Families of runners need to have understanding for their marathon members, and the many grueling hours of training. Marathon training can last from an hour and a half to three and a half hours and can be very tiring, and that is why family members should show sympathy to their marathon runner when he/she comes home tired and lays down to sleep, instead of doing the house chores.
When someone you know is running a marathon, and asks you to be there on a Saturday or a Sunday, go out into the streets and cheer – do it because you will contribute to that person's best personal result or to the completion of their first marathon.


7. How does your training look like? What is the focus when training for a marathon?
– Weekly mesocycle looks like this: alternate harder and lighter training. If I worked out on Mondays harder, then Tuesday's training should be lighter, and so alternately. Take one day a week to rest, without running at all. When I do two training sessions a day, the one in the morning is harder, while the one in the afternoon is lighter and is light running. In addition to running, I also do strength exercises, but only with my own body weight. Exercises to strengthen the legs are done twice a week, while core stabilization exercises (abs and back) are done 4-5 times a week. I would like to draw the attention of runners to core stabilization exercises, because it affects their postural attitude or straight posture during the entire race. Runners often bend the shoulder when running, the hips seem to be going backward, and therefore a reduction in oxygen intake leads to the runner running inefficiently and losing the grip on the technique. Core stabilization exercises should be done as often as possible.


8. What are your plans for future competitions? Are you planning to run some marathons abroad?
– In September this year, I plan to run the half marathon, and in October the marathon. I would like to run the half marathon in Copenhagen and the marathon Eindhoven. I plan to run the half marathon between 1:12 and 1:13, and the marathon between 2:29 and 2:32. On the home front, I plan to participate in the night half marathon in Novi Sad, Adidas Boost races in May and September, as well as the Adidas Open Run race in October. In May next year, if I am ready, I will run the marathon in Rotterdam.


9. What do you consider a marathon to be and how do you describe it? What is crucial for success in the marathon?
– Marathon must be experienced by someone firsthand in order to understand what it is and what it means. It is a test of endurance, character, will. The marathon takes a long time and it is very unpredictable, as a huge number of processes happen in the body, so it can happen that even the most prepared athlete does not make it because the race was not favorable, or that a runner of whom little was expected achieves a good result. In addition to the physical condition of the runner, the weather conditions, the terrain, and the altitude significantly affect the marathon. The ideal marathon conditions would be these: temperature between 12 and 16 degrees Celsius, cloudy weather with no wind and no sun, altitude at sea level. Such ideal conditions are marathons that are run in Northern Europe, and I would point out three marathons that are like that to me: Rotterdam Marathon, Copenhagen Marathon, and Eindhoven Marathon.
Marathon is for me a matter of 70 percent mind and faith, and 30 percent physical training. In the marathon, you win with three "weapons": mind, heart and will. A good runner must harmonize these three "holy trinities". He/she must know when to run with a heart, and when with the head (mind) – when one turns on one, and turns off the other. We have runners who run with a heart, so the first part of the race is a great race out, and then they fail because they burn out in the first stage. We have runners who run with the mind, who calculate intelligently and race out smartly almost to the end, but in the end fail because of the runners who ran with more heart at the finish of the race. When you know your problem in the race, be it in the heart or in the head (mind), you have to have the will to change. Learn from your mistakes. Personally, I learned nothing from victories, but I learned the most from defeats. The more you analyze the mistakes made in the marathon, the less risk you will take in the following race.


[youtube]https://www.youtube.com/watch?v=F-4YY3aA550[/youtube]
[:]